Chemical reactors for catalytic processes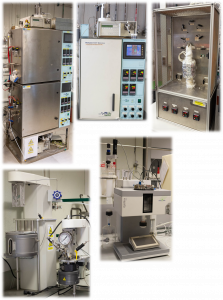 Four commercial automated lab reactors MicroActivity model (PiD Eng&Tech) which operate with flows in the range from tens of ml/min to L/min, pressures ranging 1 to 100 bar, and reaction temperature ranges from room temperature to 1000 °C (using special material reactors – HASTELLOY C276 or SS-316).
Three homemade reaction systems specifically designed to perform different catalytic reactions such as methanation, WGS/rWGS or reforming of tars.
Commercial Pilot Plant designed by PiD Eng&Tech for coupling a reforming reaction with a cleaning-up process in microchannel reactors
Two commercial stirred tank reactors from PARR for higher operating pressures (up to 345 bar) and temperaturas up to 350 °C.
One commercial chemical synthesis reactor from METTLER TOLEDO to achieve a precise control and maintains reaction temperature ensuring a reproducible process.
One homemade lab system for bath reactions.
Reactor for pyrolisis treatments and biochars production
Multiple paralel bath reactors (High-troughput)
Materials Characterization
X-ray diffraction (Philips X´PERT PRO equipped with high-temperature chamber up to 1200 ºC)
Reflectometry and small angle X-ray spectroscopy (SAXS) for analyzing solid surfaces
Raman spectroscopy (LabRAM Horiba Jobin Yvon with 3 excitation energies at 325 cm-1, 532 cm-1, and 785 cm-1)
UV-Vis-NIR spectrophotometer which operates in transmission mode or in diffuse reflectance.
Infrared spectrometer (JASCO FT/IR-6200 IRT-5000) with diverses accessories to operate in diffuse reflectance (DRIFT), attenuated total reflectance (ATR) or fixed-angle specular reflectance mode
Physisorption analysis (TRISTAR II/TRISTAR II-Kr from Micromeritics equipped with automated three-station for surface area and porosity analysis)
X-ray photoelectron spectroscopy (XPS) for surface chemical analysis (Leybold – HerAeus LHS 10/20 model). High pressure and high temperature chamber for pretreatments.
High-resolution transmission electron microscopy (HRTEM) FEI TALOS S200S model equipped with a STEM detector in three operation modes (BF, ADF and HAADF), a CCD camera Ceta16M and an EDX analyzer for compositional analysis.
Scanning electron microscopy (SEM) HITACHI S4800 SEM-FEG equipped with a Bruker-X Flash-4010 EDX detector.
Pulse chemisorption measurements and temperature-programmed experiments (TPR, TPO, TPD, TPSR) with TCD detector and mass-spectrometer (MS) coupled.
Inductively coupled plasma atomic emission spectroscopy (ICP-AES) for chemical analysis.
In situ/operando techniques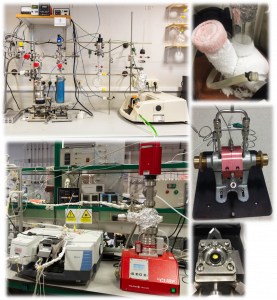 Two quartz cells for in situ FTIR studies of probe molecules adsorption (CO, CO2, NH3, Pyr, etc.)
DRIFTS cell for operando studies under reaction conditions (900 ºC and 20 bar)
Sandwich cell for operando studies in transmission mode (400 ºC and 4 bar)
Linkam cell for catalytic studies in operando conditions by Raman spectroscopy
Linkam-adapted cell with fiber-optic coupled for UV-Vis operando measurements
Homemade FTIR gas cell for analysis under flow conditions
In situ DRIFTS cell specially designed for simultaneous infrared and conductance analysis of sensors.
Design & Manufacture of microreactors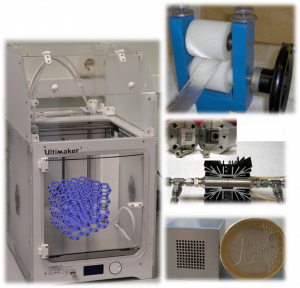 3D-Printer for additive manufacturing of flow devices, monoliths and microreactors.
Mechanical workshop for

fabrication of a wide range of devices (teflon, aluminum or stainless Steel) and welding processes.

Preparation of slurries and rheological properties (viscometer, pH meter, isoelectric point and particle size).
Manufacture of metallic substrates.
Washcoating methods.
Cromatography methods
Three microGC equipped with two modules and two TCD detector
Two GC equipped with three modules and TCD/FID detectors.
High Performance Liquid Cromatography with refraction index detector
High Performance Liquid Cromatography with automatic sampling (refraction index and UV detector)